An unmanned aerial vehicle, commonly known as a drone, is an aircraft without a human pilot aboard. UAVs are a component of an unmanned aircraft system; which include a UAV, a ground-based controller, and a system of communications between the two
Airports and drones: The law
It is illegal to fly a drone within 1km of an airport or airfield boundary and flying above 400ft (120m) – which increases the risk of a collision with a manned aircraft – is also banned.
Endangering the safety of an aircraft is a criminal offence which can carry a prison sentence of five years.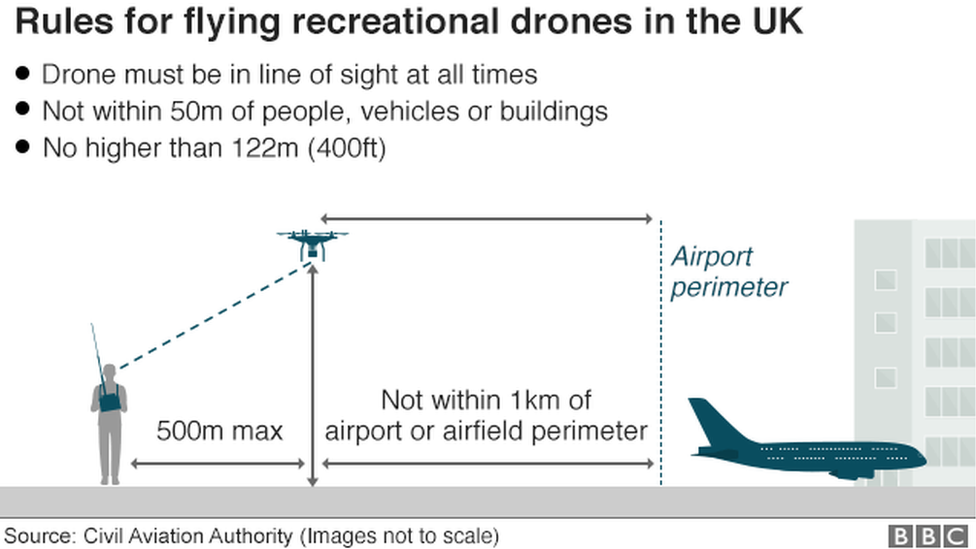 The number of aircraft incidents involving drones has grown dramatically in the past few years. In 2013 there were zero incidents, compared to almost 100 last year.
Civilian drones have grown popular as their price has fallen. Technological improvement has meant components are smaller, faster and cheaper than ever before.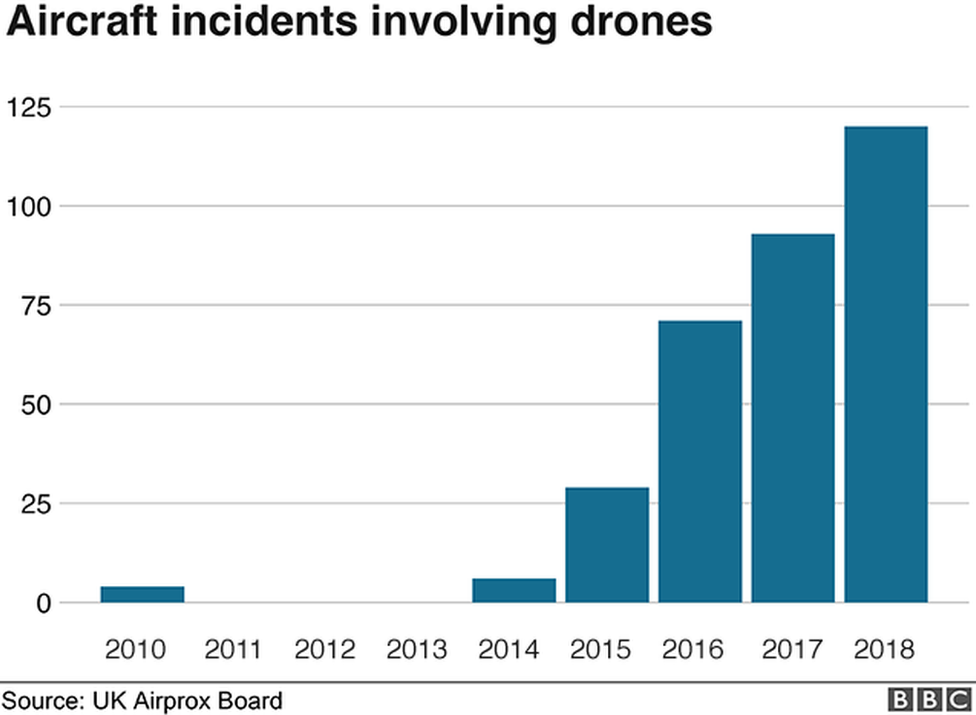 The UK Airprox Board assesses incidents involving drones and keeps a log of all reports. In one incident last year, for example, a pilot flying over Manchester saw a red "football-sized" drone passing down the left hand side of the aircraft.In another, a plane leaving Glasgow narrowly missed a drone. The pilot, in that case, said the crew only had three seconds of warning and there was "no time to take avoiding action".
Tens of thousands of passengers have been disrupted by drones flying over one of the UK's busiest airports. Gatwick's runway has been shut since Wednesday night, as devices have been repeatedly flying over the airfield. A "deliberate act" of disruption, using "industrial specification" drones. With about 110,000 passengers on 760 flights were due to fly on Thursday. These disruption could last "several days".
An airline source told the BBC flights were currently cancelled for now. The airport advised that the runway would not open "until it was safe to do so".The Defence Secretary Gavin Williamson has confirmed that the Army has been called in for more support.
He said: "The armed forces have a range of unique capabilities and this isn't something we would usually deploy but we are there to assist and do everything we can so that they are in a position to open the airport at the earliest opportunity."
Those due to travel have been told to check the status of their flight, while Easyjet told its passengers not to go to Gatwick if their flights have been cancelled.
What happened?
The shutdown started just after 21:00 on Wednesday the 19th of December, when two drones were spotted flying "over the perimeter fence and into where the runway operates from".
The runway briefly reopened at 03:01 on Thursday but was closed again about 45 minutes later amid "a further sighting of drones".
The airport said at about 12:00 a drone had been spotted "in the last hour". Meanwhile BBC News has just confirmed about 50 drones have been seen so far.
Source-BBC News,
Gatwick Airport: Live updates